Welcome to Populous: Reincarnated!
The Reincarnation of the Populous: The Beginning community, home of a variety of Populous related downloads, information, and people. Join hundreds of others in online battles and play new original worlds using the Populous Reincarnated Matchmaker.
New Players Start Here!
Recent Updates:
7/18/2016 - Åsgard Worlds: The Beginning - ver. 1.1 Released
6/1/2016 - New rushing limit for high ranks takes effect
6/1/2016 - Constant Worlds IV 1.8ax Released
6/1/2016 - NW 02: Sand Worlds 2.2 Released
6/1/2016 - NW 01: Oil Worlds 2.1 Released

Wednesday August 31, 2016 | by IncaWarrior
Have you ever wanted Populous: Reincarnated T-Shirts or maybe some sort of Populous related art work on a Shirt? Well now's the time!
We will be holding a contest this month. The winner // winners will receive two free T-Shirts & tagged in the announcement for the winner here and on PopRe Facebook along with there artwork!

Rules:
You can submit as many as you would like. (Color or Black & White)
In your e-mail put your name & email address and attached artwork.
Format should be .AI or .EPS (.png or .jpg format accepted as idea)
Designs should be in portrait mode (15in x 18in)
There can be more then one winner.
Entries must be received before October 1st
Show your love for the game and submit!
Send your artwork to inca@popre.net

Friday January 16, 2015 | by IncaWarrior
Crashed games can be loaded from saves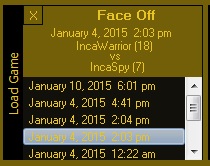 Matchmaker 2.0.3.0 contains a much wanted new feature to reload games that have crashed from a save. Save game packages are created starting a few minutes into a game when a player with substantial population drops out or if the game is suddenly closed.
The save game packages can then be found in the matchmaker's new "Load Game" panel (only visible to the host when there are saved games available). Games are listed showing the level, date, players, and populations. The host can then launch the game as normal (no other settings needed) with the players from the game and is brought to a limited game setup screen, followed by a brief loading level before the game is right back where it left off.
Resync Protection
As an added bonus, games that begin to resync will automatically be reverted to a previous save without any intervention needed.

Monday December 22, 2014 | by IncaWarrior
Populous Matchmaker now available on Android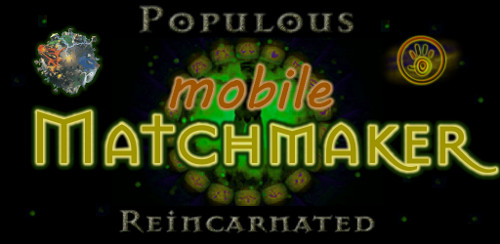 Just in time for the holidays, the matchmaker is now available on the Google Play Store. The new app created by long time community member Omkar supports chatting and PM. It's a great way to keep in touch with the Populous community during those tedious family dinners or even just extended bathroom experiences.
Sorry, you won't be able to play Populous on your smartphone.
We should be coming out with versions for other platforms including Windows Phone (for the guy that uses it) and iOS as soon as someone finds a mac to build it on.