Clans: OverPowered tops the clan league this month with 69 points
Name Changes: Apache is now known as Grand_Cherokee
Check out our Facebook Page to stay informed with the latest updates
Welcome to Populous: Reincarnated!
The Reincarnation of the Populous: The Beginning community, home of a variety of Populous related downloads, information, and people. Join hundreds of others in online battles and play new original worlds using the Populous Reincarnated Matchmaker.
New Players Start Here!
Recent Updates:
4/3/2018 - Matchmaker 2.1.3.0 Released
3/12/2018 - Matchmaker 2.1.2.3 Released
2/21/2018 - Matchmaker 2.1.2.2 Released
12/23/2017 - Populous X Skin Released
11/14/2017 - A New Age (previously Constant Revolution) 2.0 Released


Sunday July 1, 2018 | by IncaWarrior
A year of seasonal leagues!
Congratulations to NoobBasher_OP (Nici), [GoD]Shayana (Spinnifix), and Meph (Meph) for their top place finishes in Season 4. Nici achieved his victory this season by casting 32,558 blasts!

Wednesday January 31, 2018 | by IncaWarrior
Requires Download
Due to some server changes, this version of the matchmaker cannot be automatically updated. Please download the matchmaker installer and reinstall. You will not be able to login if you do not.
Map Favorites
A new map favorites option has been added and populated with your top most played maps. Add or remove maps by clicking the heart on the map browser.

Tuesday December 19, 2017 | by IncaWarrior
Android App Available Now!
The Matchmaker mobile app has been fully revamped with a slicker interface and more helpful information. The app now shows the huts, users, game statuses, ranks, and more!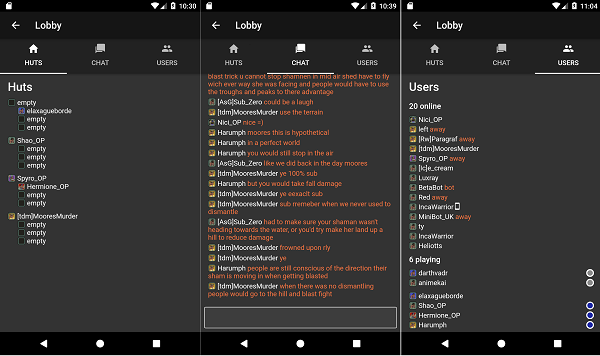 The new Mobile App can be downloaded from the Google Play Store.
Mobile Access for other Devices
For everyone on iPhones, Windows Phone, or just a computer without the matchmaker installed, we're also hosting a new web interface that looks just the same available at mm.popre.net