Welcome to Populous: Reincarnated!
The Reincarnation of the Populous: The Beginning community, home of a variety of Populous related downloads, information, and people. Join hundreds of others in online battles and play new original worlds using the Populous Reincarnated Matchmaker.
New Players Start Here!
Recent Updates:
7/18/2016 - Åsgard Worlds: The Beginning - ver. 1.1 Released
6/1/2016 - New rushing limit for high ranks takes effect
6/1/2016 - Constant Worlds IV 1.8ax Released
6/1/2016 - NW 02: Sand Worlds 2.2 Released
6/1/2016 - NW 01: Oil Worlds 2.1 Released

Friday January 16, 2015 | by IncaWarrior
Crashed games can be loaded from saves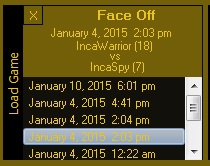 Matchmaker 2.0.3.0 contains a much wanted new feature to reload games that have crashed from a save. Save game packages are created starting a few minutes into a game when a player with substantial population drops out or if the game is suddenly closed.
The save game packages can then be found in the matchmaker's new "Load Game" panel (only visible to the host when there are saved games available). Games are listed showing the level, date, players, and populations. The host can then launch the game as normal (no other settings needed) with the players from the game and is brought to a limited game setup screen, followed by a brief loading level before the game is right back where it left off.
Resync Protection
As an added bonus, games that begin to resync will automatically be reverted to a previous save without any intervention needed.

Monday December 22, 2014 | by IncaWarrior
Populous Matchmaker now available on Android

Just in time for the holidays, the matchmaker is now available on the Google Play Store. The new app created by long time community member Omkar supports chatting and PM. It's a great way to keep in touch with the Populous community during those tedious family dinners or even just extended bathroom experiences.
Sorry, you won't be able to play Populous on your smartphone.
We should be coming out with versions for other platforms including Windows Phone (for the guy that uses it) and iOS as soon as someone finds a mac to build it on.

Sunday October 5, 2014 | by TheGabber
"Old" Worlds revamps!
Good news everyone!
Populous Reincarnated's very own "New Worlds" are currently undergoing some huge changes.
As you all probably know, New Worlds are the first mappacks that were released in the early stages of Populous Reincarnated's services (more than 10 years ago!)
Over the past years we have had quite a few suggestions on how to improove these old maps, but we also had complaints about some maps being bugged or imbalanced.
Reason enough to double-check all the New Worlds mappacks and fix all the needed things on every map;
Stoneheads, base-sizes and structures, pathing problems, tree / wildmen imbalances and all other kinds of things will be finetuned to make the maps better playable and more fun!
You can already download the new and improoved version of "New Worlds 01: Oil Worlds" and an updated version of the mod "Populous: Reloaded" (which is now compatible for software too!).
The revamped mappacks will be listed as "01 - New Worlds: Oil Worlds" and so on, more revamped New Worlds will be released in the upcoming weeks, make sure you try them all out!
Here you can see the differences between the old and new version of 2 maps
"Old" and "New" Far Away Angels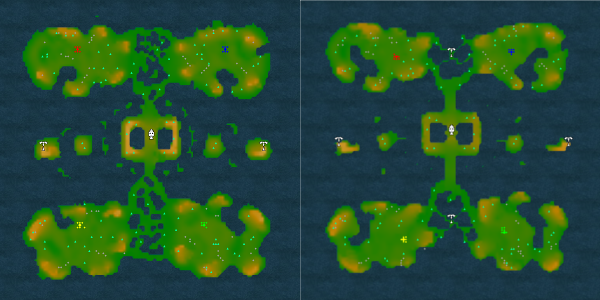 "Old" and "New" Face Down
New Worlds 2014
Along with the revamps, we also released an additional mappack with completely new maps, check out New Worlds 2014!
This mappack has a very special map called "Jailbreak 2", this map is made for 2vs2 (Blue and Red vs Yellow and Green), every player has to multitask on 2 different areas; on one Island they have to build up their base and worship totems to connect their islands, on the other Island they have to maintain a strong defense as thats where the shamans are incarcerated.
I decided to post this info since many people are probably confused on how to play this map, while it can be great fun if all players are equally skilled and know what to do!
(TVB) Jailbreak 2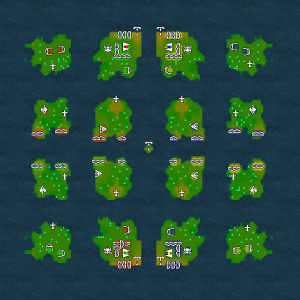 Theres also a map specially made for "blast wars" called King Of The Circle, before starting this map you want to make sure that you set the ammount of "shaman lives" to 10 or less (infinite will mess up the map's goal!), and make sure to select all 75 braves on the far away Island and make them guard or set a continuous waypoint, else they will die and you will get no mana!!
The goal of the map is simple, all shamans have to kill eachother with only Blast, the last shaman standing wins the game and has to worship the AOD in the center, this will kill all the tribes' braves and end the game (so make sure noone worships before only 1 player remains, as this will put all players' managain to 0!)
In an upcoming update on the matchmaker we may change the mechanics of how this works, for the meantime maps like this must be played with these restrictions.
King of the Circle (10shamans)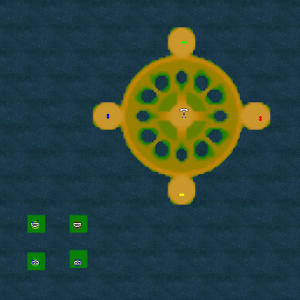 The other maps in this mappack are "normal" maps and have no special restriction settings or requirements, although some are made for specific teamplay, try them out to see for yourselves!
(IVO Helter Skelter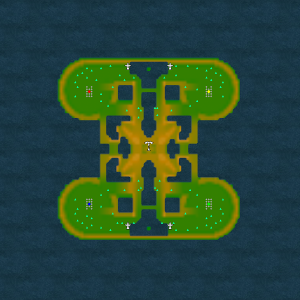 (TVB) Colosseum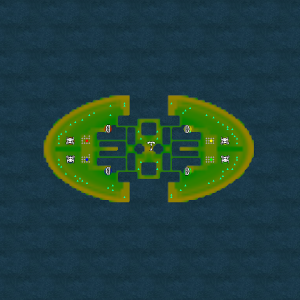 Enjoy!